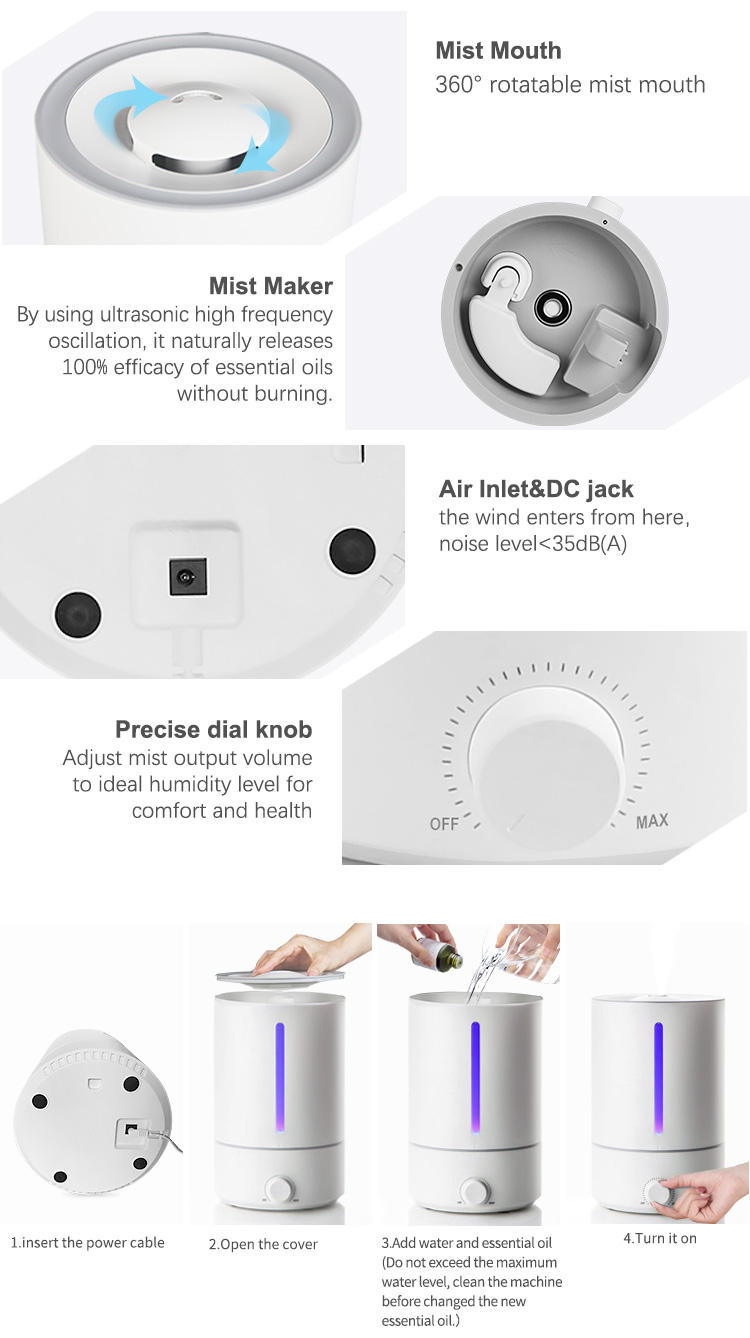 One full tank safely moisturizes the air for up to 65hours of continuous operation on the high setting, making it ideal for uninterrupted overnight use. Plus, it's so quiet it's ideal to use in your home, bedroom, nursery and office.
Top-Fill Design: This humidifier is essential oil compatible, you can just remove the cover and directly add some drops of essential oil into the water tank or refill the water from above, this cool mist humidifier turns to an oil diffuser, helping relax your mind and enjoy the fragrance, relieving the trouble to remove the whole water tank and wet your floor.
Large 5L Capacity: The 5L large capacity allows for 40 hours of continuous use with the low mist level covering 20-40 m²/ 200-450 sqft. The maximum mist output of humidifier is more than 330ml/h, give you deep humidification and maximum relaxation. The sleek 5-Litre water tank is easy to fill right from your kitchen or bathroom sink.
Whisper-Quiet Operation: This cool mist humidifier is designed for a good night's sleep, it runs at 28dB, which is nearly silent while working, with with low mist and no light, you could sleep like a baby.
Adjustable Mist Modes: This humidifier has a adjustable mist knob, you can control the humidity level according to your preferences for maximum comfort.
Easy To Clean: This mist humidifier is easier clean with its wide tank opening.
Auto Shut-Off: The humidifier automatic shut-off design, turns off the humidifier when water level is low or the water tank is removed.
The humidifier is designed to increase the moisture content in the air by dispersing water droplets or steam into the environment. It works by adding humidity to dry indoor air, which can help alleviate common problems caused by low humidity levels, such as dry skin, chapped lips, and respiratory issues.
Uses of a Humidifier
Provides relief from dry skin, chapped lips, and other skin irritations caused by dry air.
Helps alleviate dry, scratchy throat and respiratory issues such as allergies, asthma, and sinusitis.
Prevents static electricity caused by dry air.
Protects wooden furniture, floors, and musical instruments from drying out and cracking.
Helps keep houseplants healthy by providing the necessary moisture levels.
Promotes better sleep by keeping the air moist and comfortable.
Advantages of a Humidifier
Improved health and well-being: By keeping the air moist, humidifiers can alleviate a range of health issues caused by dry air, including respiratory issues, dry skin, and chapped lips.
Increased comfort: Dry air can cause discomfort, especially during the winter months. Humidifiers can help make the environment more comfortable by providing the necessary moisture levels.
Protection for furniture and other items: Low humidity levels can cause wooden furniture, floors, and musical instruments to dry out and crack. Humidifiers can help protect these items by keeping the air moist.
Enhanced sleep quality: Humidifiers can create a more comfortable sleeping environment by keeping the air moist and preventing snoring, dry throat, and other sleep-related issues.
Energy savings: Humid air feels warmer than dry air, which means that you can lower your thermostat and save on heating costs while still feeling warm and comfortable.
Overall, a humidifier can be a beneficial addition to any home or office, providing numerous benefits to health, comfort, and protecting valuable items from drying out.