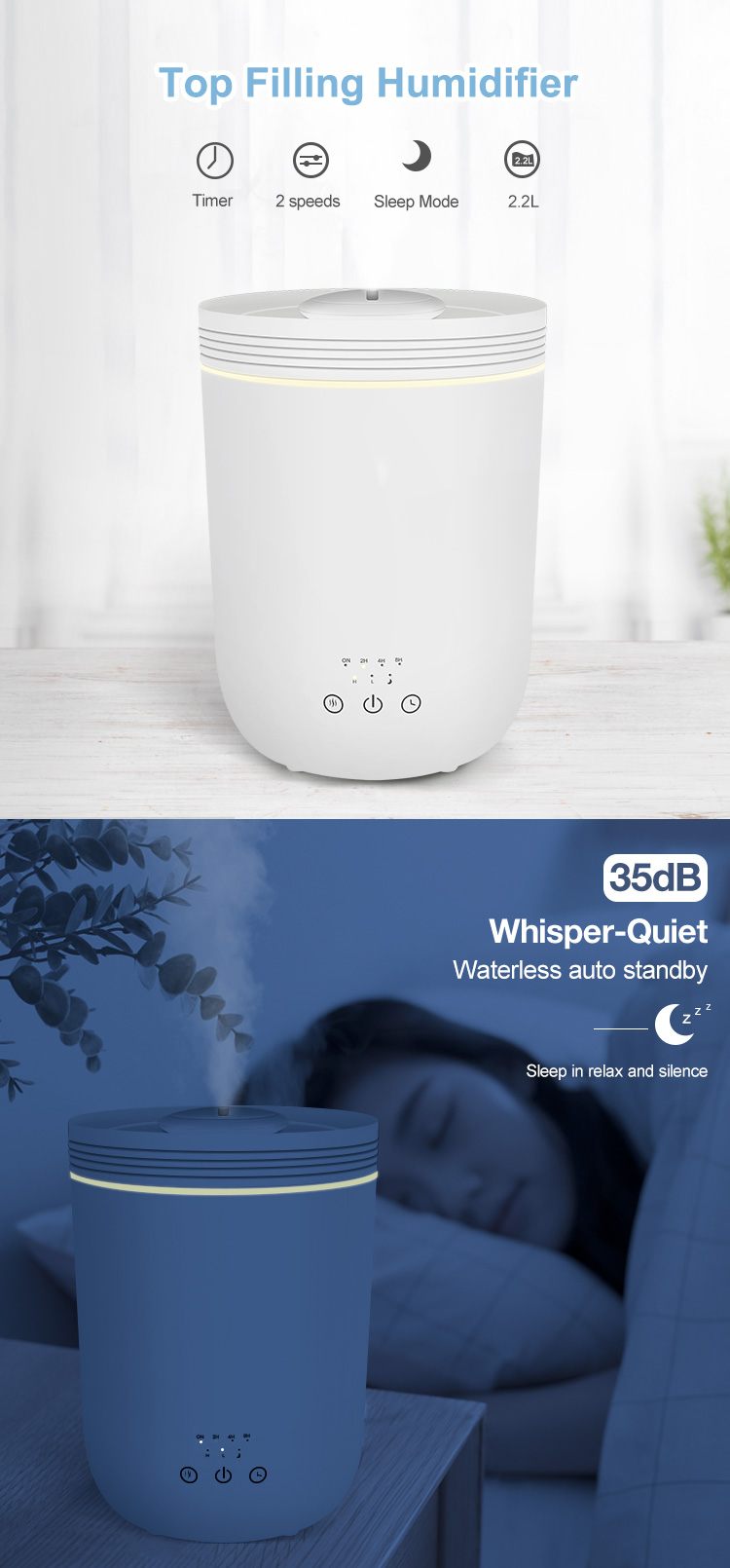 One full tank safely moisturises the air for up to 30 hours of continuous operation, making it ideal for uninterrupted overnight use. The powerful and long-lasting mist helps moisturise the dry air in your room, improve your sleep quality, moisturise your skin and alleviate the discomfort making it ideal for your home, bedroom, baby and office. The humidifier features a semi-transparent water tank convenient for you to observe the water level at any time, waterless auto shut Off functionality for protection, LED mood light for convenience at night, touch control panel for quicker operation and plus high mist, low mist and sleep mode settings to meet for your daily requirements.
Uses of A Humidifier in Your Home
Breathe Easier – Keeping indoor air at

an RH level of 40-60% will help you stay comfortable

and happy. Humidifiers can help achieve and maintain this humidity level. Comfortable humidity helps purify the air, which helps you breathe better and sleep more comfortably.
Sleep Better – Adding humidity to the environment can help reduce disruption, which means extra sleep for the whole family. You can also add drops of lavender oil to the humidifier and enjoy a better night's sleep with soothing aroma.
Moisturize Your Skin – During the cold season, cold air holds less moisture. Air Humidifier offers an effective solution to counteract the effects of dry harsh winter air by adding essential moisture to any room. Soothe dry skin with added moisture so hands and lips are no longer dry.
Beneficial for Indoor Plants – When your plants are faced with dry air, you will see curled leaves and dry leaf tips. Flower buds turn brown and fall off. Plants thrive in high levels of humidity. And using a Humidifier helps return moisture to the air promoting plant growth.
How to Clean A Humidifier
Unplug the humidifier from the power source.
Fill the tank with water, Add 2 tablespoons of White Vinegar. Let this mixture sit in the tank for 30 minutes.
Empty the humidifier and use the cleaning brush and cloth or cotton wool to wipe
Rinse all the parts and let them air dry before its next use.